Overview
Bitrix24 is a comprehensive business management platform that offer a wide range of tools and communication features to help users, organizations, and companies to enhance and streamline their businesses and processes.
Bitrix24  is also a cloud business platform that helps businesses of all sizes to manage their operations more effectively. Bitrix24 offers a wide range of features, including CRM, project management, customer support, e-commerce, and more. Bitrix24 is available in a variety of pricing plans, starting at free for up to 12 users.
Bitrix24 aims to provide a comprehensive suite of tools to help businesses streamline their operations, improve collaboration, enhance customer relationships, and drive growth. Its wide range of features makes it suitable for small and medium-sized businesses across various industries.
ICTCRM is integration of open-source SuiteCRM and ICT auto dialer and call center software, it is advanced customer relationship management (CRM) system that offer unified communications, telemarketing and advanced call center features with comprehensive set of features to manage customer interactions, sales, marketing, communication, and customer support processes. It is a powerful and flexible CRM solution that can be tailored to meet the specific needs of business communication of all sizes and industries. ICTCRM also offers security features such as security groups, roles and permissions.
Communication Features of Bitrix24
CRM Communication:
Bitrix24 offers a variety of CRM communication features that can help businesses to improve their communication with customers and prospects. These features include:
3. Contact Center:
Bitrix24 offer the contact center features for the communication process that is a powerful tool that can help you and your organization to improve your customer service and sales efforts. It allows you to manage all of your customer interactions in one place, including phone calls, emails, and chat messages, WhatsAPP integration, and many more
Through contact center users can create campaigns through different social media integration such as phone calls, emails, whatsAPP and facebook integration. Contact center also provide features of call statistics through which users can track the call stats information like inbound call, outbound call, total calls, and many more.
The Contact Center feature in Bitrix24 allows you to do the following:
Manage customer interactions: Users can use the Contact Center feature to manage all of your customer interactions in one place. This includes phone calls, emails, and chat messages.
Assign customer interactions to agents: You can assign customer interactions to specific agents so that they can be handled quickly and efficiently.
Track customer interactions: You can track customer interactions so that you can see how they are progressing and identify any potential problems.
Create reports: You can create reports on customer interactions so that you can track your performance and identify areas where you can improve.
Use automation tools: You can use automation tools to save time and improve your efficiency. For example, you can use automation tools to send automatic replies to customer emails, or to create tasks for agents when they receive new customer interactions.
5. Rest API:
Bitrix24 also offers REST API feature that is a powerful tool that can be used to integrate Bitrix24 with other applications and services. It allows you to access Bitrix24 data and functionality programmatically, without having to use the Bitrix24 web interface.
Here are some of the things you can do with the REST API:
Import and Export data: companies and users can import customer data, employee or task from an external resource or application through rest API, or export data from your Bitrix24 to integrated software or applications.
Third party system integration:  users can collect leads from third party application, synchronize contact information through Rest API.
Create Inbound & Outbound Webhooks: users can create inbound and outbound webhooks for integrating their Bitrix24 CRM with other communication software or Applications.
2) Marketing:
Bitrix24 provides marketing strategy that offers set of tools and features to streamline marketing activities, manage campaigns, generate leads, track marketing and run Ads for business performance. Here is a detailed overview of the marketing features available in Bitrix24: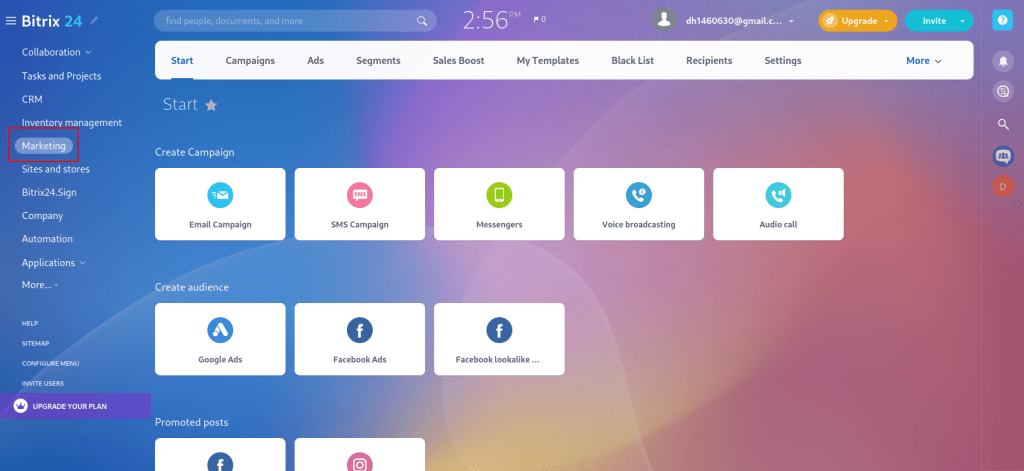 1)Campaigns:
Bitrix24 provides a campaigns features for marketing of communications business that are a way to organize and track your marketing activities. A campaign can be anything from a simple email blast to a complex multi-channel marketing campaign.
Email Campaign:
Bitrix24 offer email campaign for the marketing of communication that is one of the most widespread communication formats with clients. You can use one of the standard Marketing templates and edit it.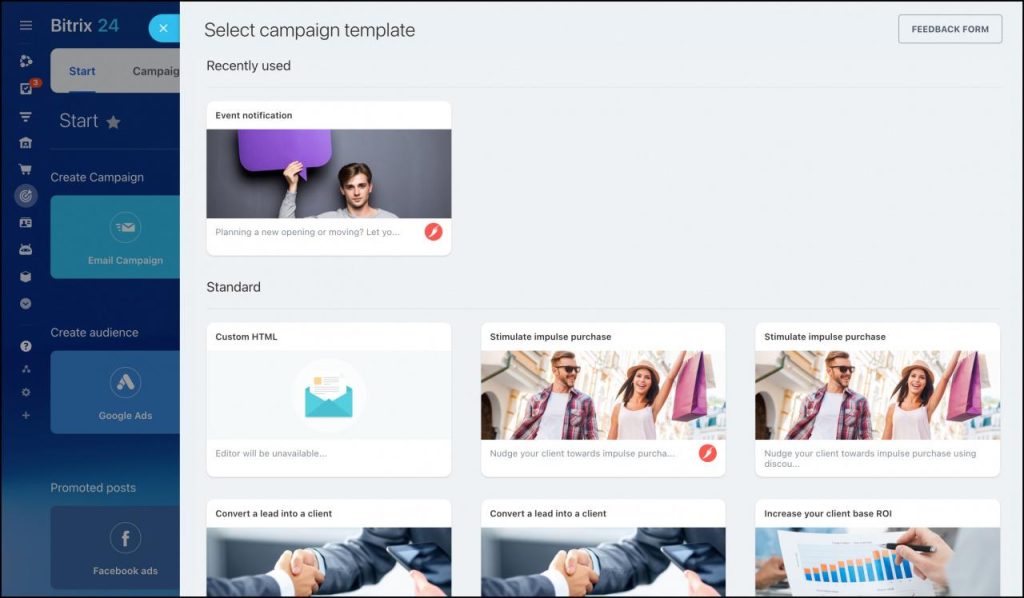 SMS Campaign:
Bitrix24 also offer SMS campaign feature to communicate with clients and to advertisement their products through SMS communications. Compose a brief message with information about discounts and promotions, select a required segment, and the system will automatically send out the texts.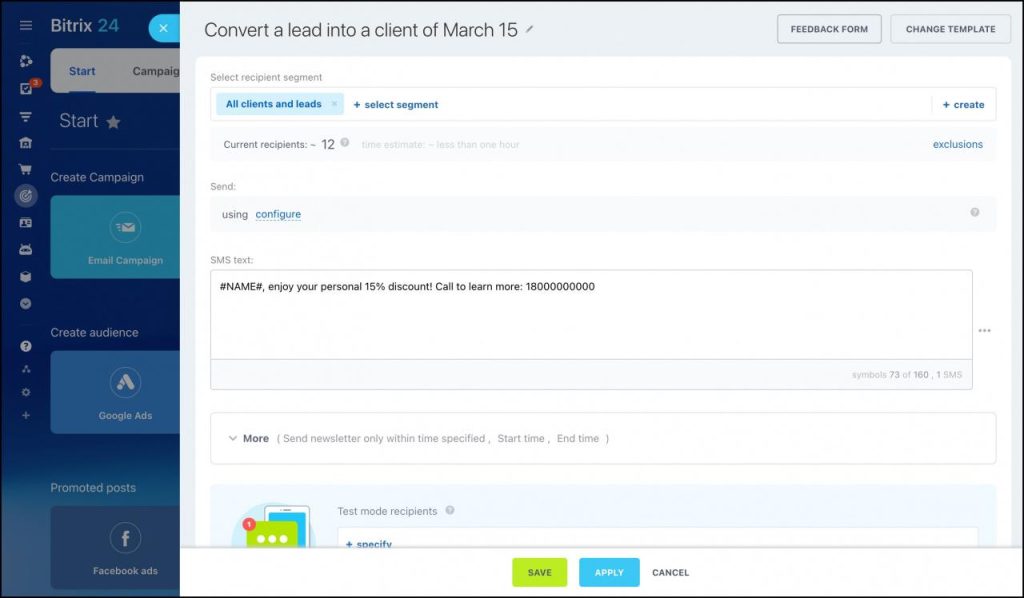 Voice broadcasting:
Bitrix24 allows making automatic calls to clients. The system automatically transforms entered text into a voice and calls the required phone number. For example, you can use this robot call to inform about product re-stocking or as a reminder about an office appointment.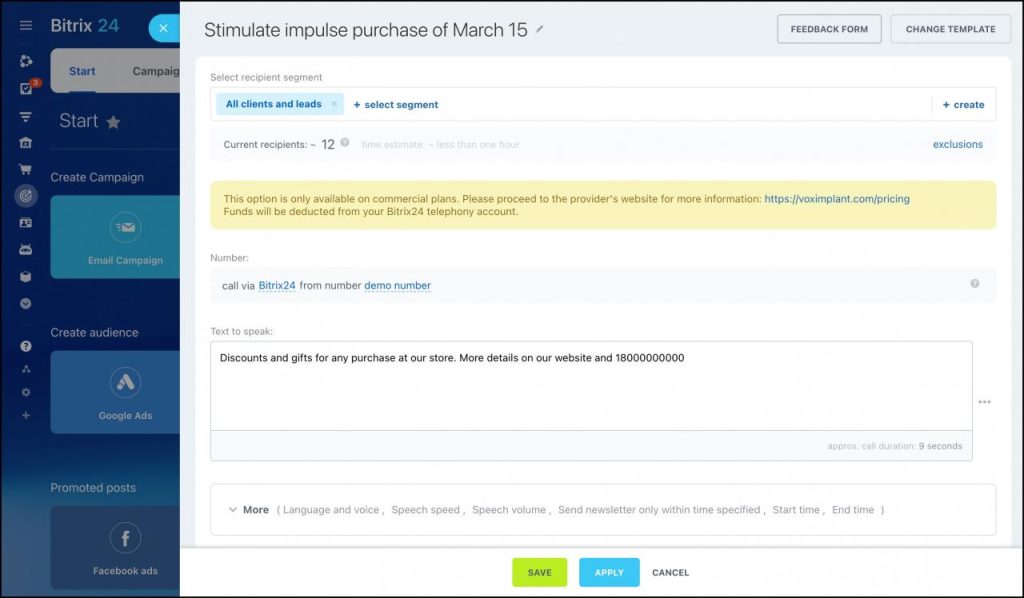 Communication Features of ICTCRM (SuiteCRM with ICTContact Integration)
Overview:
ICTCRM is an advanced CRM software integrated with CTI to manage your organization's daily business and communications needs, It is suitable for small, medium and large companies. The functionality of ICTCRM is enhanced allows users to create and send surveys to their contacts. Surveys can be used to collect feedback from customers, gather insights into target audiences, or simply stay top-of-mind with customers.
by adding computer telephony integration (CTI ) functionality by adding both personal as well as mass communications capability either through SMS, voice , email or fax based technologies by integrating this modern CRM and ERP solution with unified communications platform ICTContact.
The said integration enables the user to communicate directly with his contacts/customers directly from ICTCRM, either using general contacts lists or leads lists or opportunity lists, or others. The said integration enable automation of the business process and enable the user to create and run campaigns directly from ICTCRM.
1) Campaign:
ICTCRM offers campaign feature for their customer or user for enhance their communication business through campaign. Campaign features of ICTCRM is very powerful tool for the marketing and advertisement of their business and organizations. ICTCRM allow users and employees to create and track their campaigns to enhance their business and prospective and existing customers.
Campaign Collaboration: ICTCRM offers collaboration features that enable teams to work together on campaigns. You can assign tasks, share files, and communicate with team members within the CRM platform. This promotes collaboration, streamlines workflows, and ensures everyone is aligned towards campaign objectives.
Campaign Reporting: ICTCRM also provides comprehensive reporting capabilities to analyze the performance of your marketing campaigns. You can generate reports and visualize data through charts and graphs. The reports help you gain insights into campaign effectiveness, track the progress of campaign goals, and evaluate the return on investment.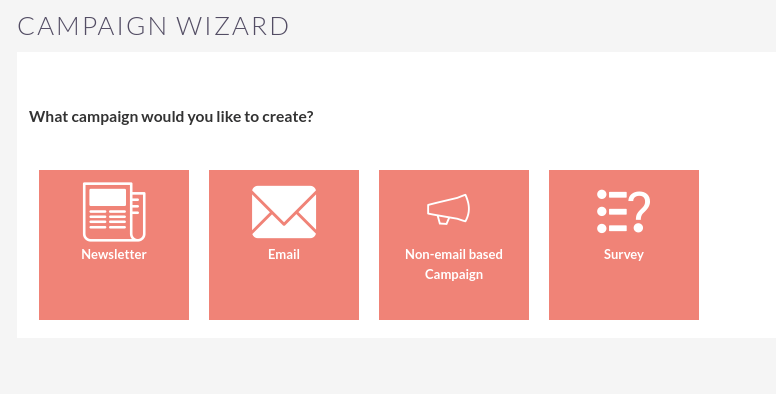 Newsletter Campaign:
ICTCRM offers the newsletter campaign feature in the campaign that helps the companies and users to send out regular updates to their customers and audiences. Newsletter campaign can be used to share news about your company, promote new products or services, or simply stay top-of-mind with your audience.
Email Campaign:
In ICTCRM Email campaign also offered in campaign module that allow you to to design, execute, and track targeted email marketing campaigns to enhance your business processes. It provides a range of function to create engaging email templates, manage mailing lists, track email performance, and automate campaign work flows.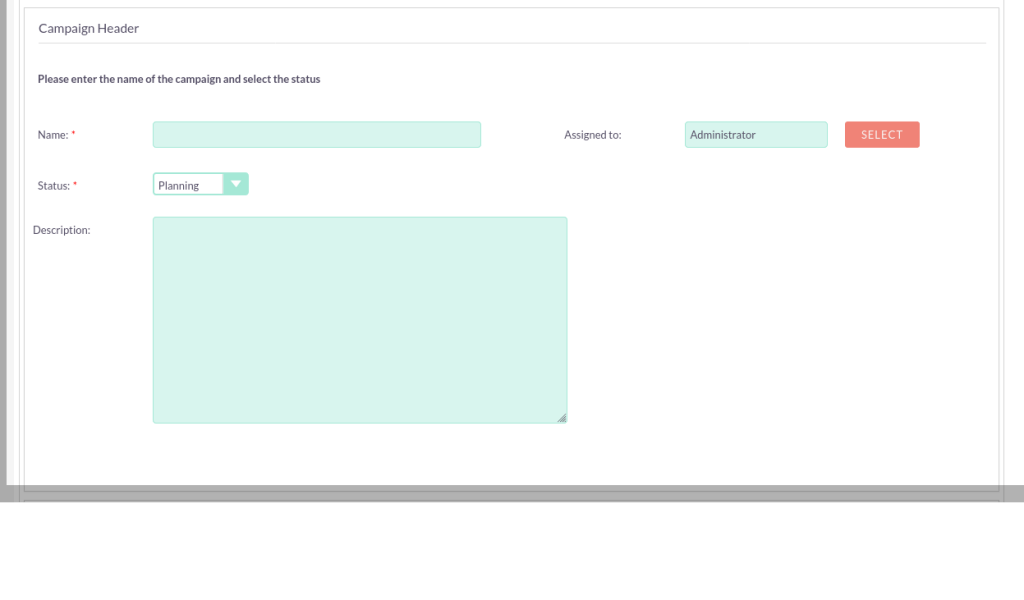 Non-email based Campaign:
ICTCRM also offers the non-email based campaign for companies to enhance their communication process through other communication channels rather than email campaign to reach out your target audience. non-email campaigns allow businesses to leverage additional communication channels to connect with their customers and prospects.
Survey Campaign:
Survey campaigns are a way to collect feedback from your customers and prospects. They can be used to gauge customer satisfaction, gather insights into your target audience, or simply stay top-of-mind with your audience. ICTCRM also offers survey campaign to know about the feedback given by their customers either they are interested for your product and service or not.
4) Targets:
ICTCRM also offer the target as communication feature that allows you to create and manage marketing campaigns that are targeted to specific audiences. By using the Target feature, you can ensure that your marketing campaigns are more effective and efficient.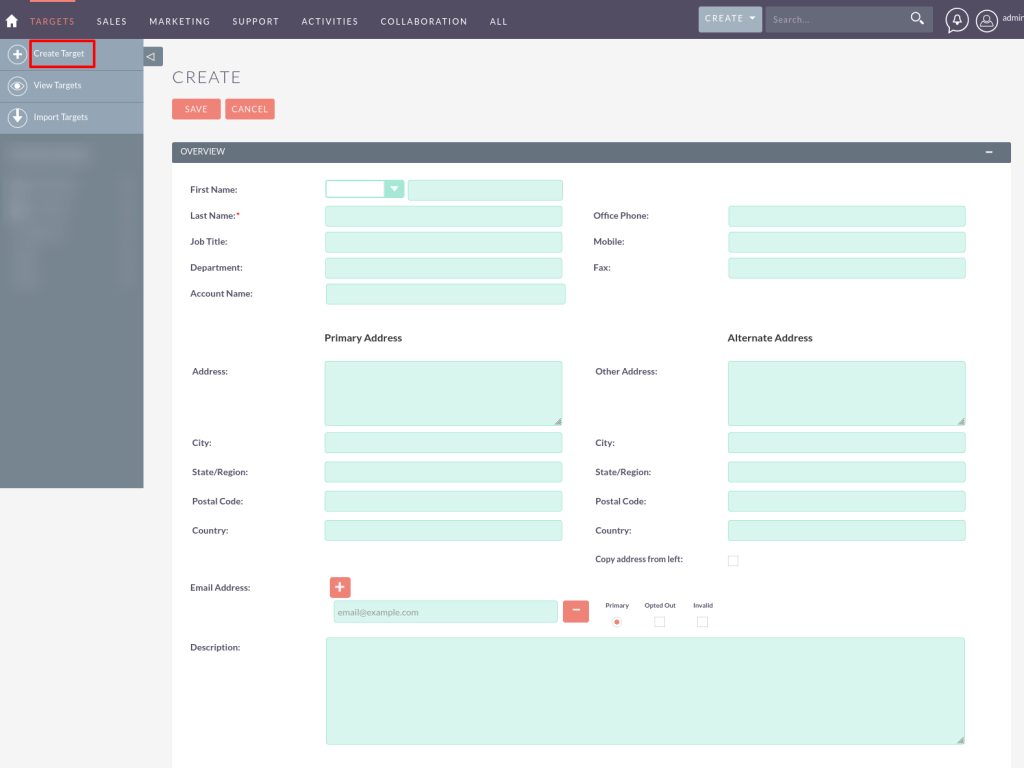 Calls:
ICTCRM offer the call feature for communication that allows users to track and manage their sales calls. This can be helpful for keeping track of which leads have been called, what was discussed during the call, and any next steps that need to be taken.
The Calls module in ICTCRM allows Users to schedule and log a record of inbound and outbound calls that they may be a participant of.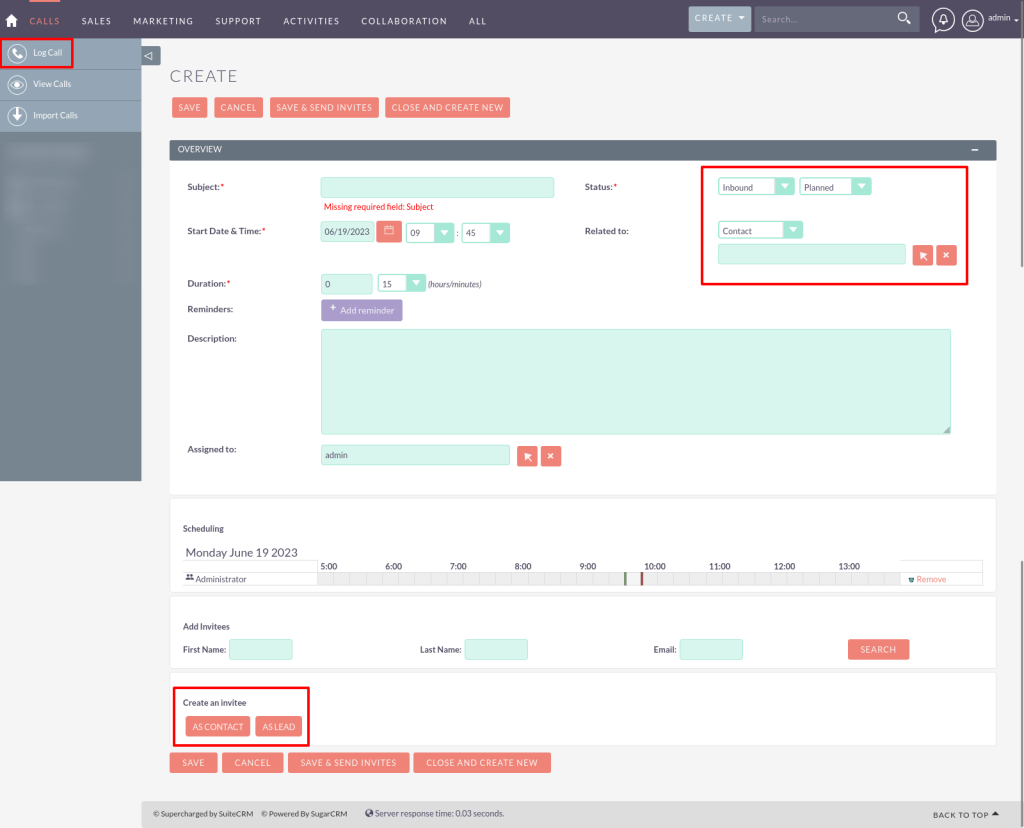 You can access the Calls actions from the Calls module menu drop down or via the Sidebar. The Calls actions are as follows:
Log Call – A new form is opened in Edit View to allow you to create a new Call record.
View Calls – Redirects you to the List View for the Calls module. This allows you to search and list Call records.
Import Calls – Redirects you to the Import Wizard for the Calls module.
After the integration users/admins enables to run follwing types of campaigns directly from ICTCRM:
Survey based voice calling
Appointment reminder
Voice Broadcasting
IVR Campaign
Agent Campaign
Fax blasting and mass marketing
SMS messaging
Email Campaign
Press 1 campaign / interactive campaigns
Disposition Management:
Disposition Management is not an builtin module of ICTCRM. It is added later according to the requirement in ICTCRM.
ICTContact will offer a GUI, where admin can manage a list of dispositions, they create/edit or delete the disposition. And in ICTCRM can create disposition and export the CRM disposition list into ICTContact.
After export these dispositions are directly added into ICTContct disposition menu.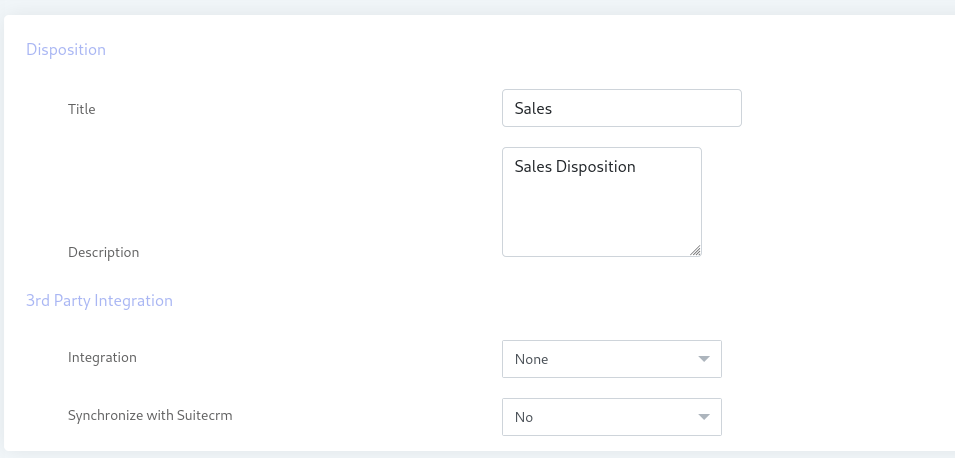 5. ICTContct Agent Disposition:
Agent set Dispostion, After call completion in ICTContact. If users want it is also update in your ICTCRM then need to use Disposition API token in the Integration page and only disposition that are synchronized with ICTCRM integration will be updated to ICTCRM when agent set disposition after the call completion.
after the synchronize with ICTCRM need to add disposition API that will work to update data in ICTCRM
after that when agent set disposition after call completion in ICTContact agent panel then record will update in ICTCRM disposition module.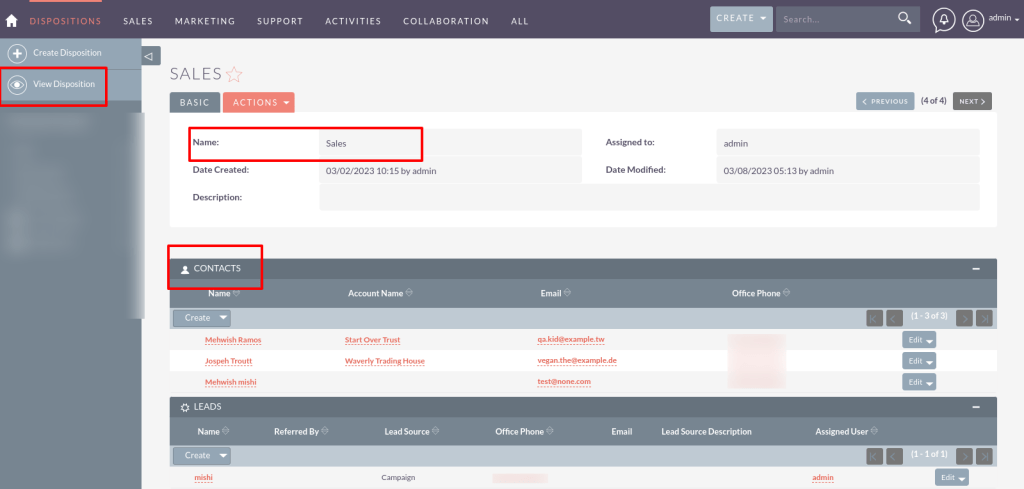 Call Center:
ICTContact is contact center  and call center software that offer call center features and unified communication features such as Voice, email, sms and Fax broadcasting. It also offers inbound and outbound call center functionality.

Survey based calling:
ICTContact contact center  software offer survey based calling campaign for telephony surveys and pools. This auto dialer software automatically dials a list of numbers and asks them a set of questions that they can respond to, by using their telephone keypad. You can schedule when to make calls, record your questions using ICTContact voice recording features, and run a campaign.
Appointment Reminder:
ICTContact is a unique auto dialer that can be used as automated appointment reminder software. ICTContact offer appointment reminder campaign that places an automatic reminder call to all the contact in group one by one.
Interactive/Press1 campaign:
ICTContact auto dialer software offer Press1 campaign feature. Press1 campaign suits all business that need to contact a target list. It is also knows as interactive voice broadcasting.
Outbound call center:
ICTContct's outbound call center features power, interactive, dynamic, and predictive modes of dialing. in interactive mode, ICTContact dials a list of contacts already saved in the system (that can grow to millions of numbers also multiple contacts lists supported for each user) and once the call is received by the recipient, it plays a custom message and waits for some DTMF key to be pressed (usually 1# for transfer to an agent) and if the required key is detected, the call is transferred to agents for further processing.
Inbound Call Center:
As Inbound call center mode, ICTContact waits for calls to come on a DID and play saved IVR to caller presenting different options and on required keypress transfers the incoming calls to agents for further support. Agents can view information about incoming caller ID, call duration.
IVR Studio:
ICTContact contact center software  is bundled with an interactive web-based IVR Designer that enables its users to design custom IVR menus as they choose. IVR Designer / IVR Studio is simple, easy to understand, and is based on a drag-and-drop feature. Once a user has created an IVR, ICTContact can broadcast and plays these IVRs to its customers.
Voice Broadcasting:
ICTContact is a voice broadcasting software that can broadcast voice messages by creating voice message campaigns. Voice message campaign auto-dial telephone numbers that are uploaded into the contact group. When the call is answered by the recipients, it plays that message. ICTContact uses pre-recorded voice messages that are already uploaded at its portal. Voice messages can be recorded (as a recording . WAV file) or can use a TTS (Text To Speech) engine from a text file.

SMS Broadcasting:
ICTContact also offer SMS broadcasting feature This helps send blasts of bulk SMS marketing or automating the SMS transactional messages. To send messages, a large audience needed bulk broadcasting software. SMS Marketing software like ICTContact has the ability to send hundred to thousand of SMS messages at a time.
Fax Blasting:
ICTContact offer fax blasting and fax broadcasting feature for their customers that allows users to send mass Faxes to their contacts/customers online without using any Fax machines or hardware. ICTContact will dials numbers from contact lists and on the answer, it will transmit Fax documents to destinations. ICTContact is a mass faxing tool that can burst thousands of faxes in minutes.
WebRTC:
ICTContact offer another amazing feature for call centers and Agent Support, WebRTC based Agent Panel for Agent to interact with callers / customers . Agent panel supports Voice, SMS, Fax, and email communications technologies. ICTContact also introduced WebRTC based webphone that allows agents to receive incoming and make outbound calls using their browsers without any additional hardware or software. ICTContact offers integrated WebPhone for Agents.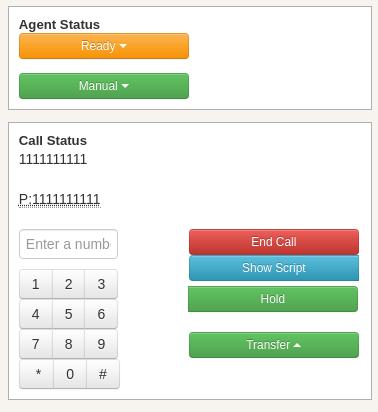 Comparison
Bitrix24 and ICTCRM are both popular CRM solutions that offer a wide range of features. However, there are some key differences between the two platforms.
Bitrix24 is a cloud-based CRM that offers a wide range of features, including sales management, marketing automation, customer support, project management, and document management. It is a good choice for businesses of all sizes, and it is particularly well-suited for small businesses and start ups.
ICTCRM is integration of open-source SuiteCRM and ICTContact contact center  and call center software that can be hosted on-premises or in the cloud. It offers a similar range of features to Bitrix24, but it is more customizable and scalable. ICTCRM is a good choice for businesses that need a high degree of flexibility and business communication.
Comparison of Communications features
FEATURES

Bitrix24

ICTCRM (SuiteCRM with
ICTContact)

Email Marketing
N
N
Disposition management
M
N
communication Automation
M
N
SMS/ marketing
N
N
Mobile App
N
N
Contact Center
N
N
Emails
N
N
Phone Calls
N
N
Broadcast Message
N
N
Wiki
N
N
Call Center
M
N
Fax blasting
M
N
Survey based Voice calling
M
N
Interactive campaign/press 1
M
N
Appointment Reminder
M
N
Inbound call center
M
N
Outbound call center
M
N
Predictive dialing
M
N
Power dialing
M
N
Inbound dialing
M
N
DNC
M
N
AMD
M
N
IVR Studio
M
N
Agent Dialing
M
N
WebRTC
M
N
Voice broadcasting
M
N
Progressive dialing
M
N
Integration campaign
M
N
Manual dialing
M
N
Call throatling
M
N
User-wise channel limits
M
N
Concurrent Channels
M
N
WebPhone
M
N
Custom Called ID
M
N
Custom tokens
M
N
Personalized communication
M
N
Attended/blind call transfer
M
N
Retry with follow me
M
N
Dynamic communication
N
N
Dialog/Script
M
N
Video conferencing
N
M
Instant messaging
N
M
Summary
In Conclusion, Bitxrix24 and ICTCRM both are popular CRM platforms with their features, pros, and cons.
Bitrix24 is well known for its Advanced communication and collaboration tools including a social intranet, task management, instant messaging, and video calls. It offers a comprehensive set of features beyond CRM functionality.
On other hand ICTCRM is best option for its deep CRM and communication capabilities, open source nature, free to use plan, highly advanced communication features and modules, and easily integrated options.
ICTCRM is suitable choice for organizations those are seeking for platform that have advanced communication and robust collaboration features also with CRM capabilities.
Following are features in which ICTCRM has Advantage over Bitrix24:
1) Email Marketing:
In term of Email Communication feature then ICTCRM is better option for organizations because ICTCRM offer a advanced and comprehensive email Communication feature after integration of SuiteCRM with ICTContact that offers Email marketing features that user can directly use from ICTCRM such as Email campaign, SMS campaign, and Fax marketing. While Bitrix24 offer less email communication features than the ICTCRM .
2) Communication automation:
ICTCRM and Bitrix24 both offer communication automation features, but ICTCRM's are more robust and flexible in Communication automation.
More comprehensive set of automation rules: ICTCRM offers a more comprehensive set of automation rules than Bitrix24, allowing you to automate a wider range of tasks. For example, you can use ICTCRM to automate tasks like sending follow-up emails, creating tasks, and updating records.
3) Unified Communication:
if you are looking for platform that have unified communication feature than ICTCRM can be perfect solution because ICTContact is a part of ICTCRM so ICTContact is unifed communication auto dialer software so users can directly use unified communication features from ICTCRM such as voice broadcasting, SMS, email , and fax marketing and so on. While Bitrix24 does not support unified communication features like ICTCRM.
4) Call Center:
ICTCRM and Bitrix24 both offer call center features, but ICTCRM's call center solution is more robust and feature-rich because it is integrated with ICTContact auto dialer and call center software that is part of ICTCRM.
5) Integration:
ICTCRM offers advanced communications features and a more comprehensive and flexible integration platform than Bitrix24. If you need to integrate ICTCRM with a wide range of apps, and you want to be able to customize the integrations to meet your specific needs, then ICTCRM is a better choice.
6) Social media Communication:
If you are looking for Platform having advanced social media integration and communication then ICTCRM is perfect option because ICTCRM has wide range of Social media integration or integration with any third party application through Rest APIs
Overall, ICTCRM's communication automation features are more robust and flexible than Bitrix24's. If you're looking for a CRM solution with powerful communication automation capabilities, ICTCRM is a better choice.